kxmx_bluemchen
Open Source
Eurorack DSP Platform
kxmx_bluemchen
The kxmx_bluemchen is a open source, 4HP, Eurorack module powered by the Electrosmith Daisy Seed.
The Daisy Seed is an embedded DSP development platform with an ARM Cortex-M7 MCU, High fidelity AKM stereo audio codec with up to 24-bit 192kHz, 64MB of SDRAM, and 8MB of flash memory. The Daisy Seed is a formidable platform which already powers a number of reputable Eurorack modules such as the Electrosmith Daisy Patch, the Qubit Surface, and the entire Noise Engineering Versio series.
---
open source
The kxmx_bluemchen is an entirely open source project. The schematics and PCB designs are licenced as CC-BY-NC-SA 3.0, and all software is MIT licensed.
The kxmx_bluechen git repository contains a C++ implementation providing simple access to the hardware features, and is a great starting point for working with the module
back pcb

The back PCB contains SMT components, but is certainly hand-solderable for those with experience. For those who arent, the components of the BOM were selected with the PCBA service from JLCPCB in mind. It is possible to have a small number of these boards fabricated with the SMT components assembled for a reasonable price.
front pcb
The front PCB contains no SMT components is hand solderable.
panel

This is a simple and inexpensive PCB front panel. Dimensions for an aluminum panel can be derived from this one.
---
diy kit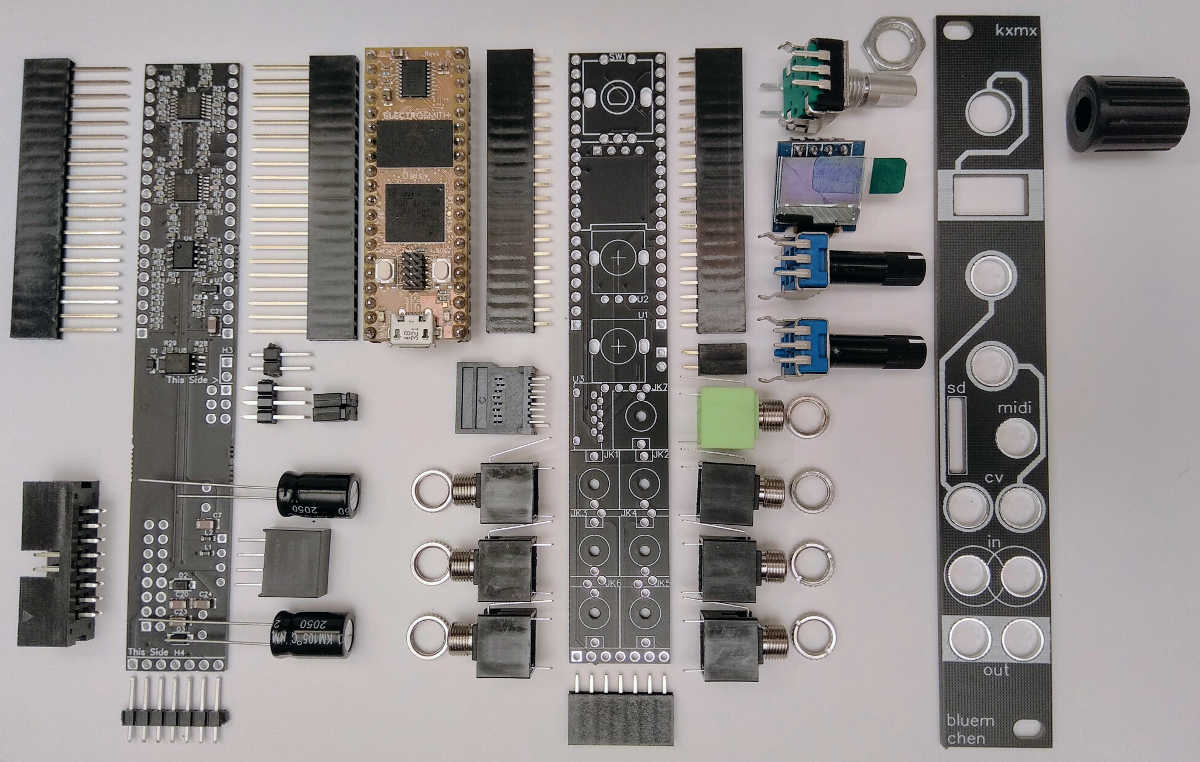 The kxmx_bluemchen is available as a DIY kit. The kit contains all PCBs with SMT components pre-soldered, a front panel, and all the parts necessary to build a complete module.
Check out the assembly guide to get an idea of what's involved in building a kit.
99€ - DIY Kit (Add 40€ for a Daisy Seed if needed)
All prices are excluding shipping and customs. Shipping is from Germany. Payment via PayPal only.
DIY kits are SOLD OUT
---
built module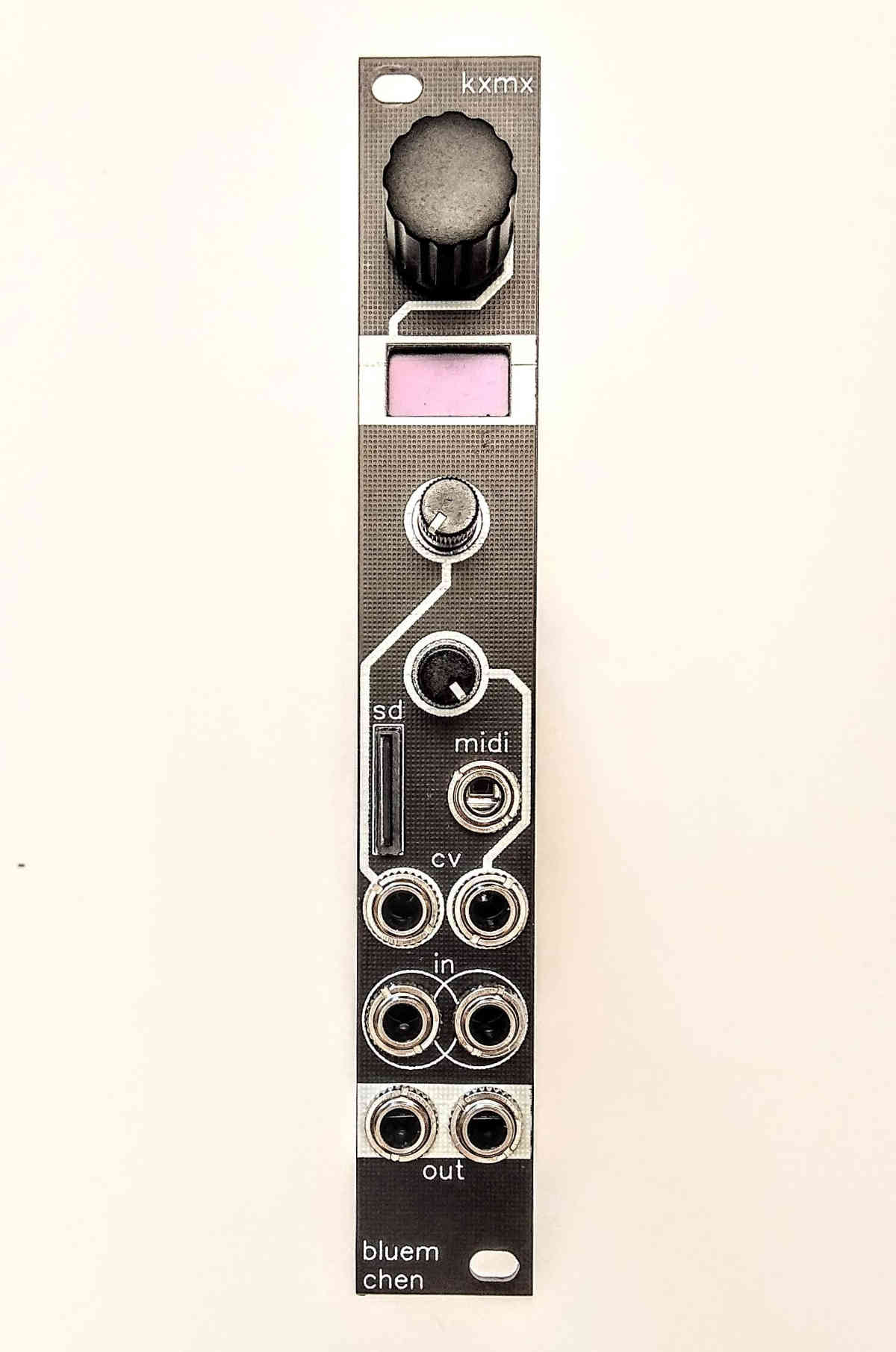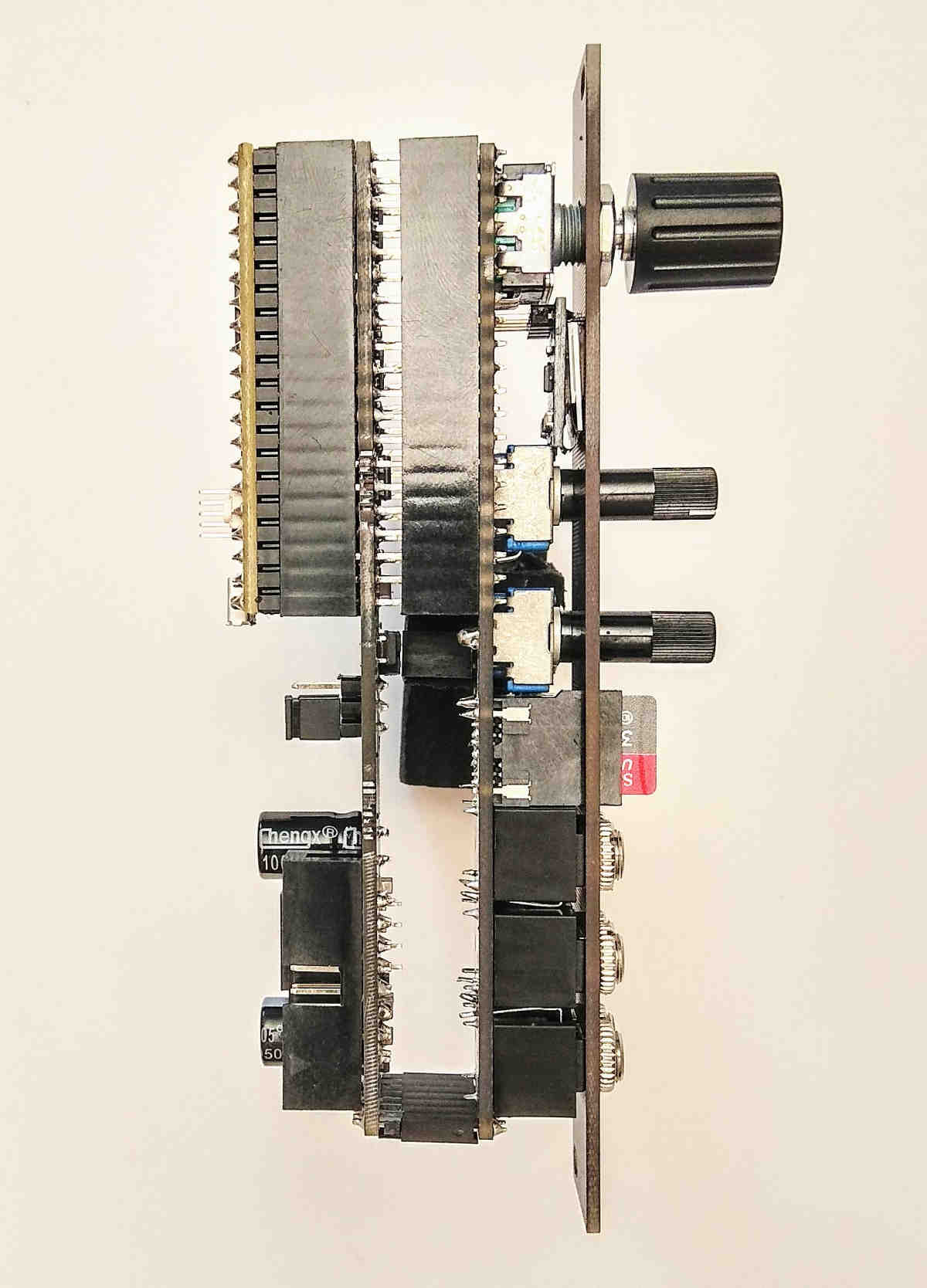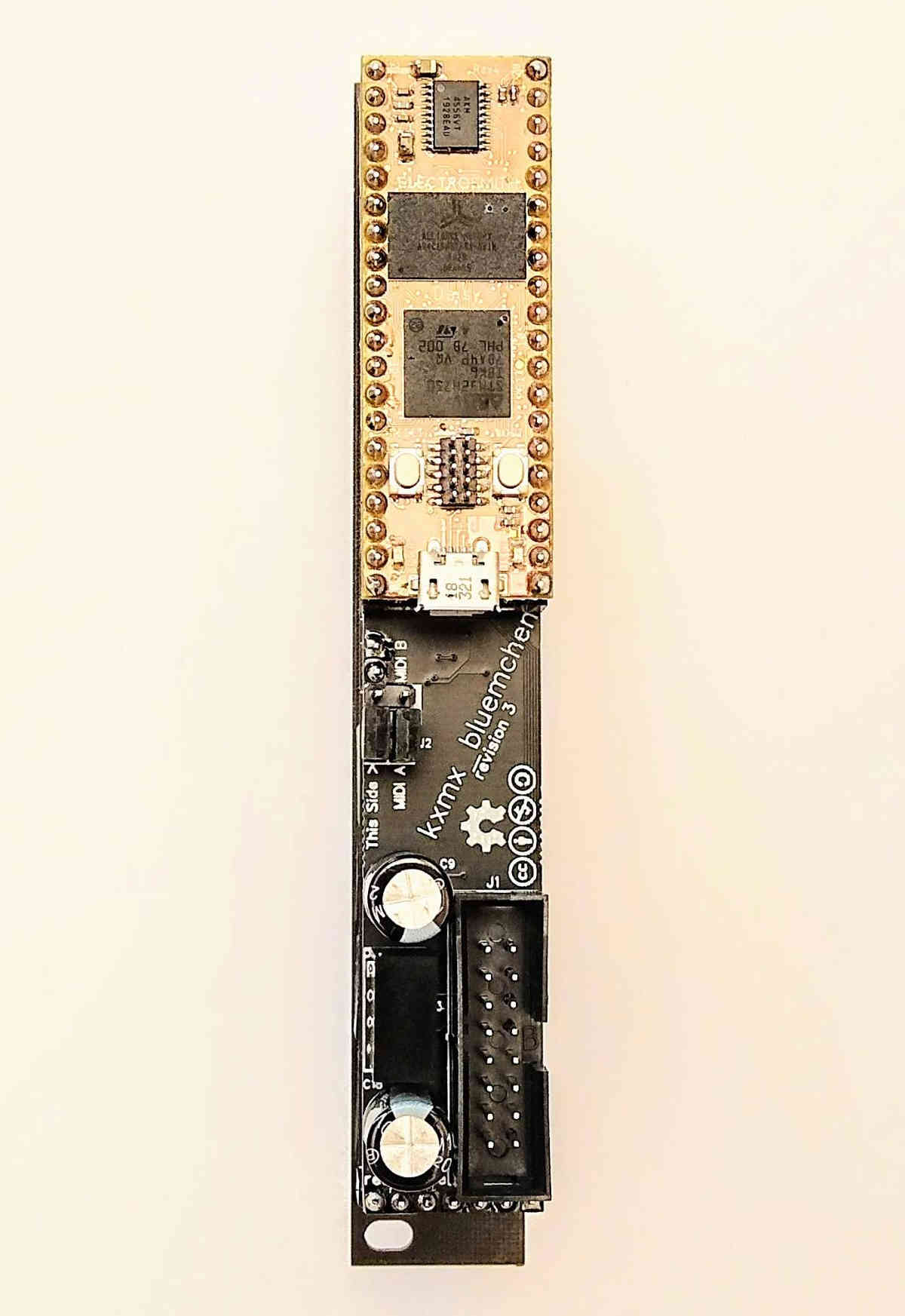 The kxmx_bluemchen is also available as a fully built module.
199€ - Built Module (Add 40€ for a Daisy Seed if needed)
All prices are excluding shipping and customs. Shipping is from Germany. Payment via PayPal only.
Modules are SOLD OUT
---
alternate versions

kxmx_nehcmeulb
The kxmx_nehcmeulb is an inversion of the kxmx_bluemchen. It is essentially the same as the kxmx_bluemchen with a couple of important differences:
MIDI out instead of MIDI in
CV out instead of CV in
Audio in is now DC coupled and can accept both Audio and CV in
This alternate version affects only the back PCB, and is pin compatible with the kxmx_bluemchen front PCB and panels.

kxmx_bluemchen_1u
Being 4hp wide, the kxmx_bluemchen was a shoe-in for a 1U tile. The only modifications necessary were to rotate the potentiometers and OLED. This affects only the front PCB, which means the back PCB can be either a kxmx_bluemchen or a kxmx_nehcmeulb, depending on what you are looking to do.
---